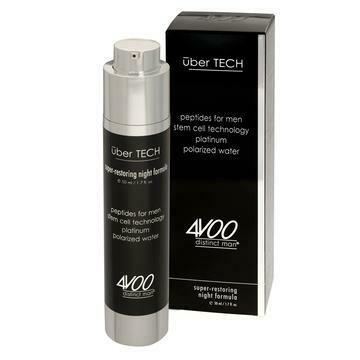 Uber TECH super-restoring night form
€218.01 incl. btw*
Een revolutie in mannenhuid verzorging! Voorheen alleen te krijgen via dermatologen en huidspecialisten. U vroeg zich af waarom de sterren weinig rimpels hebben en een prachtige huid? Sterren zoals: Brad Pitt, George Clooney en vele andere gebruiken deze formule om huidveroudering tegen te gaan! Nu ook beschikbaar voor u!

De best presterende luxe huidverzorging: het eerste anti aging product speciaal voor mannen ontwikkeld!
Uber TECH gebruikt de geheimen van de wetenschap, technologie en natuur zodat de tekenen van ouderdom tegengegaan worden:
dramatically increase the synthesis of collagen I and II by 280% for firmer, more youthful skin
visibly reduce wrinkles by up to 61%
stimulate rapid proliferation of skin cells, increasing production by 45% in just 4 days—for skin that appears full of vitality
increase skin cell DNA protection by 50%
improve skin's resistance to stress by 142% and protect from UV damage
boost elasticity by 41% for younger looking skin
prevent water loss caused by hormones: increasing hydration by 37% in just 30 minutes, for skin that looks and feels fresh and supple
Categorie 4VOO
* Gebaseerd op verblijf in Belgium. Btw tarieven voor andere landen worden berekend aan de kassa. Prijs exclusief btw: €180.17.