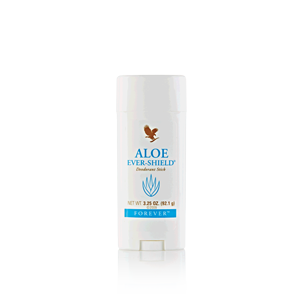 Aloë Ever-Shield
€9.44 incl. btw*
Bescherming voor de hele dag
De Aloe Ever-Shield Deodorant Stick biedt een effectieve bescherming voor de gehele dag. Dit zachte en tegelijkertijd krachtige product irriteert niet en vlekt niet in uw kleding.
De Aloe Ever-Shield Deodorant Stick geeft u de hele dag effectieve bescherming en een fris gevoel. Deze huidvriendelijke maar krachtige deodorant is niet-irriterend en laat geen vlekken achter in uw kleding. De formule, gebaseerd op gestabiliseerde aloë vera gel, bevat geen aluminiumzouten of alcohol zoals in anti-perspirant deo's gebruikelijk is en geeft tevens een rustgevend effect na het scheren of waxen.
Ingrediënten:
Propylene Glycol, Aqua, Sodium Stearate, Aloe Barbadensis Leaf Juice (Stabilized* Aloe Vera Gel), Triclosan, Citric Acid, Ascorbic Acid, Parfum, Hexyl Cinnamal, Benzyl Salicylate, Hydroxyisohexyl 3-cyclohexene Carboxaldehyde, Linalool, 2-(4-tert-butylbenzyl) propionaldehyde, Geraniol, Citronellol, Benzyl Cinnamate, Alpha-Isomethyl Ionone , Eugenol, Limomene, Amyl Cinnamal, Potassium Sorbate, Sodium Benzoate.
Inhoud: 92,1 gr.
* Gebaseerd op verblijf in Belgium. Btw tarieven voor andere landen worden berekend aan de kassa. Prijs exclusief btw: €7.80.